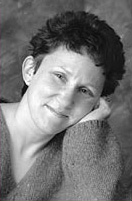 Others might be decking the halls and singing "Jingle Bells," but for me, the holidays are a time when I could easily curl up in a ball and hibernate until 2008, or chug down a gallon of eggnog and go reeling down the street weeping, "Who is Good King Wenceslas, and why won't he leave me alone?!"
I get the holiday blues. Over the years, though, I've developed some strategies to lift me out of Yuletide glumness. And since I've also learned I'm not the only one dreading December, I thought I'd share.
Go out in public dressed as an elf. People love it, though watch out for surly teens who may try to steal the jaunty felt hat from your head or snatch your pointy ears. This is why I always carry pepper spray in the waistband of my bright red tights, and sharpen the tip of a candy cane.



Personalize your snowman. So many are ho hum: same old carrot nose, same old lumps of coal for eyes. Why not make yours stand out in the crowd? Last year, my snow person was Angelina Jolie. I used discretely placed giant snowballs and a set of big wax lips. The twigs for arms were a nice touch, too. This year I'm thinking of an S &M motif complete with a leather mask and whip.



Create alternate lyrics to your favorite Christmas carols. Here's my own version of "Silent Night":

Silent Night
I need a flight
Down below
To kiss Russell Crowe
He's an Aussie
Who's sexy and tough
Sure like to see him
In the buff
Christmas saying, "G'daaayyyy"
Chriiiiistmas Day saying "G'Day."


And here's my version of "Angels We Have Heard on High":
Rappers we have heard on high
Singing sweetly for their peeps.
And their posse in reply
Hopes that bling is all for keeps.
Yo
Yo Yo Yo Yo Yo
Yo Yo Yo Yo Yo
Yo Yo Yo Yo Yo
Yo Yo
Christmas with my bitches
Yo
Yo Yo Yo Yo Yo
Yo Yo Yo Yo
Yo Yo Yo Yo Yo—
Yo Yo
Mutha Ukin' Christmas Time.



Eat whatever you want. Candy canes for breakfast? Bring it on, sistah. Panetone for lunch? Hey, it's got raisins in it. Screw this "Eat something healthy before you go to a holiday party, so you're filled up and don't pig out." Take a holiday from eating healthy.



Don't make snow angels. Make snow devils.



Perform an interpretive dance to "Rockin' Around the Christmas Tree" for friends and family.



Give nutty gifts, and ask for them in return. For example: I love religious kitsch, so last year for Christmas, a friend of mine got me a tin of New TestaMints. A few years back, I gave my husband a Winston Churchill doll. Forget about gift certificates, scarves, gloves, and iPODs. Go for the goofy.



Take two Christmas balls and turn them into earrings to wear at holiday parties. People will either praise your creativity, or leave you standing alone at the punchbowl. Either is good.



Make and break your New Year's Resolutions now so that by the time January comes around, you're ahead of the pack.



Get creative with fruitcake. Use it as a doorstop. Or hurl slices at the neighbor's cat when it creeps into your garden to pee.



Make your own Advent calendar. Behind each window, put a pic of a hottie. December 1st: George Clooney. December 2nd: Johnny Depp. And so on. Save the best for Christmas



Quit being a self-absorbed sad sack and give to those in need. Bake Christmas cookies for a soup kitchen. Buy a gift to donate to Toys for Tots. Always works for me.




Hope you all have a wonderful holiday!
Cheers,
Deirdre
PS—Apparently, Good King Wenceslas was the Duke of Bohemia (now the Czech republic) who was murdered in 929 AD by his evil brother, Boleslav. He was an honest, principled king who braved a fierce storm to go out and feed a neighbor.

USA Today Bestselling Author Deirdre Martin is the author of five romances. Her next book, JUST A TASTE, will be in stores January 2nd, 2008. You can visit her website at:
www.deirdremartin.com
.