Have I told you the hero inspiration for my current WIP? At first, I was going to use
Raoul Bova
(thank you tons Stacy for sharing this guy with me), but I REALLY want to save him for inspiration on a Harlequin Presents. He just looks like one of my sexy tycoons, you know?
But then JudyF sent me a hottie and I just KNEW he was exactly what Alan Hyatt looked like. I mean, it was like he could come right off the computer screen and start talking like a fifth generation federal agent. Wanna know who? None other than
Henri Castelli
. And in the way that writer's do...I've already incorporated this resemblance into the story. Won't tell you how exactly, but suffice to say that certain ladies online are not the only ones lusting after his riverstone eyes. And hopefully, you all remember what a hoot Jillian was in The Real Deal. Well, the woman hasn't changed much. :)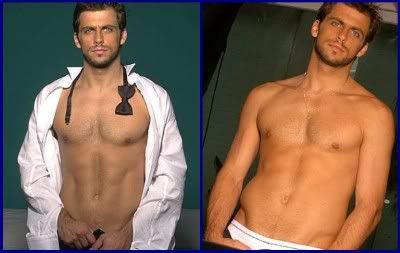 Some neat news? TAKE ME is on Bookscan's national bestseller's list for romance this week. I'm also the feature author on
Romance Junkies
and the review for TAKE ME is fabulous!
Also, I've got some REALLY cool news I can't wait to share, but until I've got firm details...I won't. Not teasing...well not too much. :)
Discussion question: who do you think would make a great hero inspiration for one of my books and why? Oh, and what type of book, single title contemporary, Presents, historical, werewolf, etc.?