Sometimes you are in the mood for a different kind of read. If that's the case, then what about a highly erotic "Regency set romantica" e-book by a brand new author?
Kate Pearce
's "
Eden's Pleasure
", available from Ellora's Cave, has all the elements of pure erotica fantasy for the romance reader.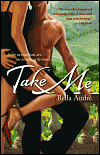 Or you could try "
Take Me
" by
Bella Andre
...an erotic romance about a plus size woman and the man of
her
fantasies. In the seductive warmth of the Tuscan sun, Lily is about to unwrap her real self, and play a game of desire with the hot-blooded Travis. Will she be burned by an ecstasy that's so all-consuming it has her seeing stars? Or will Travis open his heart to the sexy, exciting, and lasting love she has to offer? This is a tradesize paperback put out by Pocket books.
If you're looking for sexy humor with a little suspense thrown in, then you should check out "
Cherry On Top
" by
Kathleen Long
. Luke Chance is allergic to cherries—literally. He also avoids women with money, especially new money. But Cherry Harte is fun, different, and super-sexy. But is she on the lam? The woman's hiding something, and he intends to find out what. Chance is a man on a mission…call it love. This is a mass market paperback from Kensington.
So, there you have it...three wildly different stories in three different formats by three very different writers. Don't ever say I don't go all out when I try to offer something different!
Hugs,
Lucy